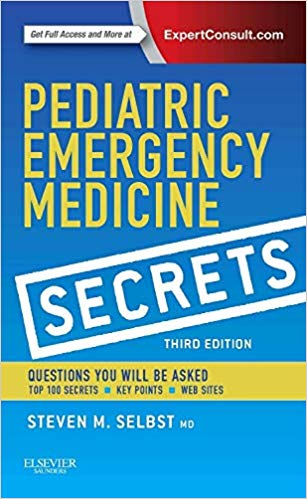 Access concise, yet complete clinical guidance on pediatric emergency care with Pediatric Emergency Medicine Secrets, a bestselling volume in the popular Secrets Series®. Ideal for quick review or exam prep, this updated medical reference book is an essential pocket guide covering common and unusual pediatric conditions; the user-friendly Secrets style makes it a valuable addition to your library!
Focus on important topics, such as cardiac arrest, respiratory failure, neurosurgery emergencies, ophthalmology emergencies, burns/smoke inhalation, toxicology, neck and spine injuries, and much more.
Apply the latest knowledge and techniques with content thoroughly updated by leaders in the field.
Quickly review key concepts through a question-and-answer format, bulleted lists, mnemonics, "Key Points" summaries, lists of useful web sites, and practical tips from the authors.
Enhance your reference power with a full range of well-organized essential topics in pediatric emergency medicine.
Improve content knowledge with a special chapter containing "Top 100 Secrets," providing an overview of essential material for last-minute study or self-assessment.
Expert Consult eBook version included with purchase. This enhanced eBook experience allows you to search all of the text, figures, references, and videos from the book on a variety of devices.