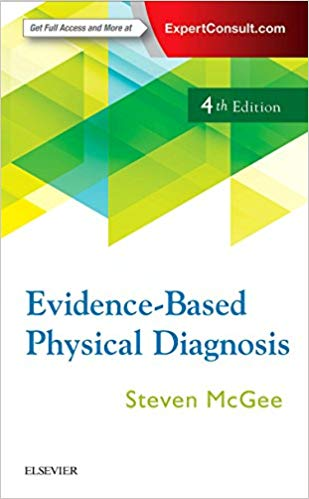 Fully updated from cover to cover, incorporating over 200 new studies on the evidence-based approach to diagnosis, the 4th Edition of Evidence-Based Physical Diagnosis remains your go-to resource for guidance on interpreting physical signs, enabling you to determine the most appropriate physical finding to confirm a diagnosis.Internationally renowned author Dr. Steven McGee puts the most current evidence at your fingertips, allowing you to quickly compare all physical signs for a given diagnosis, understand their significance, and then select the most accurate ones.
Includes a unique evidence-based calculator online that enables you to easily determine probability using likelihood ratios.
Features a reader-friendly outline format, including dozens of "EBM boxes" and accompanying "EBM ruler" illustrations.
Provides new evidence on the scientific value of many physical findings, including Cheyne-Stokes respirations, subclavian stenosis, fever of unknown origin, porto-pulmonary hypertension, localization of stroke, and many more.

Expert Consult eBook version included with purchase. This enhanced eBook experience allows you to search all of the text, figures, images, videos, and references from the book on a variety of devices.
NEW two-color format improves readability and helps you find essential information faster.

NEW Key Teaching Points at the beginning of every chapter, ideal for teachers of bedside medicine.