Fenichel's Clinical Pediatric Neurology: A Signs and Symptoms Approach, 8th Edition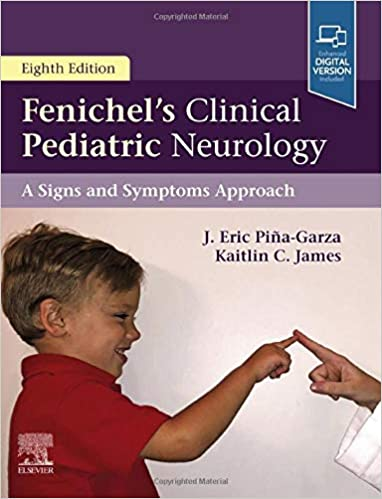 Taking a practical, easy-to-reference signs and symptoms approach, Fenichel's Clinical Pediatric Neurology, 8th Edition, provides a solid foundation in the diagnosis and management of primary neurologic disorders of childhood while bringing you fully up to date with recent developments in the field. It offers step-by-step, authoritative guidance that considers each presenting symptom in terms of differential diagnosis and treatment, reflecting real-life patient evaluation and management. Perfect for board exam preparation, office use, or residency reference, this well-organized, revised edition is an ideal introduction to this complex and fast-changing field.
Includes a new chapter on genetics in relation to epilepsy, autism, and many neurometabolic disorders, with up-to-date coverage of genetic testing, diagnosis, and pharmacogenomics.
Brings you up to date with the new definition of status epilepticus; new guidelines for Lennox Gastaut syndrome; new FDA-approved drugs for epilepsy, ADHD, dystonia, and more; new data on sudden infant death syndrome; and revised consensus criteria which unifies the concepts of neuromyelitis optica (NMO) and neuromyelitis optica spectrum disorders (NMOSD).
Defines age at onset, course of illness, clinical features, and treatment options for each neurological disease, all logically organized by neurological signs and symptoms in a highly templated format.
Features weighted differential diagnosis tables and treatment algorithms that help you quickly identify the more common and most treatable neurological disorders, as well as evaluate and manage the most difficult neurodegenerative disorders, including those caused by inborn errors of metabolism.
Shares the knowledge and experience of Dr. J. Eric Piña-Garza, MD, a longtime associate and protégé of Dr. Gerald Fenichel, and Dr. Kaitlin C. James, Medical Director of the Pediatric Epilepsy Monitoring Unit at Vanderbilt Children's Hospital.