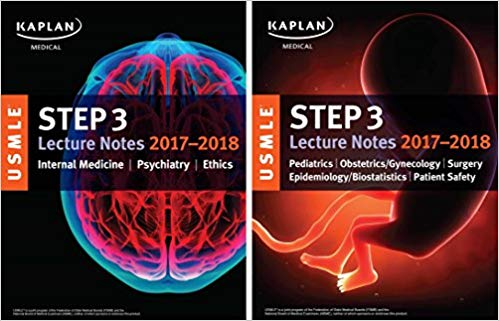 The only official lecture notes provided by Kaplan Medical, USMLE Step 3 Lecture Notes 2017-2018: 2-Book Setoffers case-based review with a focus on high-yield topics. The books take a comprehensive approach that will help you deepen your understanding while focusing your efforts where they'll count the most.
The Best Review from the Same Team that Releases USMLE Step 1 and Step 2 CK Lecture Notes.
More than 250 in-depth cases covering every discipline you'll need on this section of the boards
Organized in outline format for efficient study
Covers the most commonly seen chief complaints
Includes basic science correlates likely to be tested on the exam, patient management from the experts, patient safety, and population health.
This collection of books assumes mastery of both Step 1 pre-clinical discipline-based and Step 2 CK clinical sciences content, both of which are covered in Kaplan's official Lecture Notes bundles.