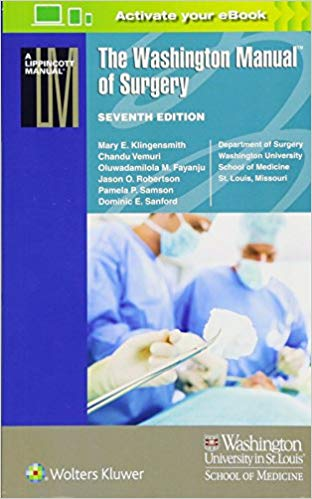 Concise, portable, and user-friendly, The Washington Manual of Surgery, 7th Edition, focuses on the essential information you need to know for successful care of patients with surgical disease.  This bestselling reference presents brief, logical approaches to the management of patients with comprehensive surgical problems. Throughout the manual, content has been completely updated, including new review questions, new chapters, and new treatment algorithms. This 7th Edition provides a clear view of the challenges surgical residents face, practical solutions, and expert guidance – all in one convenient and easily accessible source.
Key Features:
Thoroughly revised with information on the latest advances in surgical technique, instrumentation, and standards of practice.
New chapters on Biostatistics for the General Surgeon, Quality Improvement and Patient Safety, and Fundamentals of Endoscopic, Laparoscopic, and Robotic Surgery.
Reorganized content emphasizes clarity and consistency, so you can find what you need more quickly.
Comprehensive coverage addresses all areas taught in general surgical residencies, including pediatric surgery.
Concise guidelines and algorithms assist in the diagnosis and management of surgical diseases.
Updated references are provided for readers who would like additional information on a particular topic.
Written by faculty and residents from the Washington University School of Medicine in St. Louis, one of the world's top surgical training programs.
Now with the print edition, enjoy the bundled interactive eBook edition, which can be downloaded to your tablet and smartphone or accessed online and includes features like:
Complete content with enhanced navigation
Powerful search tools and smart navigation cross-links that pull results from content in the book, your notes, and even the web
Cross-linked pages, references, and more for easy navigation
Highlighting tool for easier reference of key content throughout the text
Ability to take and share notes with friends and colleagues
Quick reference tabbing to save your favorite content for future use