Sleisenger and Fordtran's Gastrointestinal and Liver Disease- 2 Volume Set: Pathophysiology, Diagnosis, Management, 10th Edition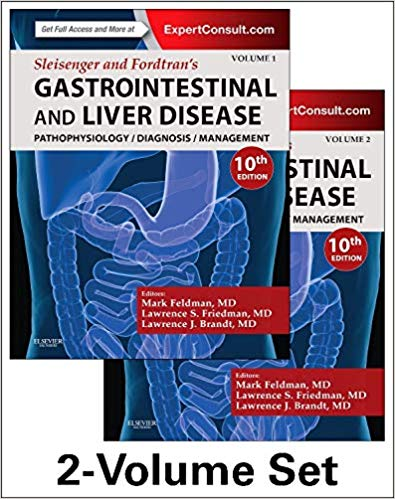 Now in its 10th edition, Sleisenger and Fordtran's Gastrointestinal and Liver Disease remains your indispensable source for definitive, state-of-the-art answers on every aspect of gastroenterology and hepatology. Overcome your most complex clinical challenges and make optimal use of the newest techniques, technologies, and treatments—with superb guidance from hundreds of world-renowned authorities. Meticulous updates throughout include the latest approaches and improvements in gastrointestinal and liver disease diagnosis and therapy as well as hundreds of images and 35 new procedural videos.
"..one of the most valuable clinical resources in the dynamic field of gastroenterology and hepatology." Reviewed byBrindusa Diaconu on behalf of the Journal of Gastrointestinal and Liver Diseases, July 2015
"..an engaging, educational yet clinically orientated textbook which is relevant to modern clinical practice." Reviewed by Dr Harry Brown on behalf of glycosmedia.com, April 2015
"I can personally attest to the remarkable advances that have been made, as I was author of the chapter on eosinophilic gastroenteritis in the second edition of the textbook, and reading the same chapter in the tenth edition underscores the important advances that have been made in our understanding of the molecular basis as well as the pathophysiology of this and related disorders." Foreword by Norton J. Greenberger, MD Boston, Massachusetts, June 2015
Get the essential gastroenterology information you need from one authoritative source with an outstanding global reputation for excellence.

Zero in on the key information you need to know with a consistent, full-color chapter design.
Stay up to date with emerging and challenging topics: enteric microbiota and probiotics; fecal microbiota transplantation; Clostridium difficile colitis; and factitious gastrointestinal diseases.
Incorporate the latest findings and improvements in care for liver disease patients―from diagnosis and treatment through post-treatment strategies and management of complications.

Expert Consult eBook version included with purchase. This enhanced eBook experience allows you to search all of the text, figures, references, and videos from the book on a variety of devices.