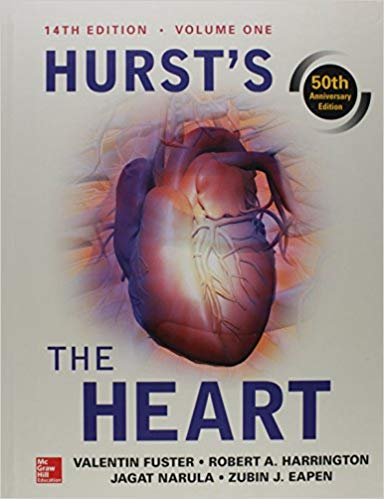 THE BOOK THAT EVERY CARDIOLOGIST SHOULD OWN — THE BEST EDITION YET!
A Doody's Core Title for 2017!
ALL CHAPTERS HAVE BEEN COMPLETELY REWRITTEN
MANY NEW EXPERT AUTHORS
MOST REFERENCES ARE LESS THAN FIVE YEARS OLD
NEW REDRAWN FIGURES REFLECT THE LATEST INFORMATION
COVERAGE OF THE MOST RECENT CLINICAL TRIALS, PRACTICE GUIDELINES, AND EVIDENCE-BASED MEDICINE
5 STAR DOODY'S REVIEW!
"This is an outstanding choice for those who strive for a firm foundation in cardiovascular medicine, as well as an up-to-date and user-friendly source that addresses every discipline in the field. The updates and enhancements to this edition have made the book easier to use."–Doody's Review Service (reviewing previous edition)
Cardiology's cornerstone text and your first place to turn for the latest developments that promise better patient care
Hailed for its authority, currency, and ability to translate the latest research and advances into real-world clinical application, Hurst's The Heart is the field's landmark text and cardiology's longest continuously published reference book.  Written to meet your ever-changing clinical information needs, this trusted classic offers a solid foundation in cardiovascular medicine and complete coverage of all major cardiovascular topics.
Within its pages, you will find succinct, visually appealing summaries of all the major new trials and guidelines, along with tips for optimizing outcomes and health quality. The Fourteenth Edition has been completely updated to reflect the latest technical, therapeutic, and clinical advances, while still maintaining a strong focus on quality patient care.
HERE'S WHY THIS IS THE BEST EDITION YET:
NEW CHAPTERSinclude Arrythmogenic Cardiomyopathy; Ischemic Mitral Regurgitation; Degenerative Mitral Valve Disease; Left Ventricular Noncompaction; Evaluation and Management of Acute Heart Failure; Carotid Artery Stenting; and Race, Ethnicity, and Cardiovascular Disease
• NEW SECTIONS include Metabolic Disorders and Cardiovascular Disease and Cigarette Smoking and Cardiovascular Disease
• More than 1,500 full-color illustrations and 500 tables (many new to this edition)
• The wisdom, experience, and authority of approximately 300 expert contributors
If you've been searching for a current, comprehensive, and authoritative overview of all major cardiology topics, Hurt's the Heart, Fourteenth Edition belongs on your desk.