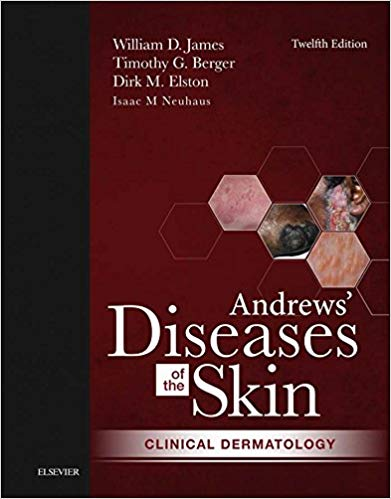 Effectively diagnose and treat a wide range of skin conditions with the latest edition of the highly regarded Andrews' Diseases of the Skin: Clinical Dermatology. The 12th edition of this classic reference, by esteemed authors William D. James, MD, Timothy G. Berger, MD, and Dirk M. Elston, MD, provides state-of-the-art information on newly recognized diseases, new conditions, and unusual variants of well-known diseases, as well as new uses for tried-and-true medications and unique drugs for diseases as disparate as melanoma and rosacea. It's your ideal go-to resource for clinical dermatology, at every stage of your career.
Still the only one-volume, go-to dermatology text!
Practice with confidence through the valued authorship of seasoned professionals Dr. William D. James, Dr. Timothy G. Berger, and Dr. Dirk M. Elston.
Rapidly improve your knowledge of skin conditions through a concise, clinically focused, user-friendly format.

Obtain thorough guidance on clinical presentation and therapy for a full range of common and rare skin diseases.
Ensure that you're up to speed with the hottest topics in dermatology, including drug eruptions from new medications, new therapeutics for melanoma, as well as viral infections, biologic agents, and newly described gene targets for treatment.
Broaden your knowledge with updated information on serological diagnosis of pemphigus, TNF-I for hidradenitis suppurativa, the use of immunosuppressives for atopic dermatitis, excimer laser for the treatment of vitiligo and much more.
Quickly access hundreds of new images depicting a wide variety of skin conditions.
Stay up to date with recent society guidelines, including the latest from the American Academy of Dermatology, covering a variety of conditions such as melanoma and atopic dermatitis.

Expand your clinical repertoire and meet your patients' expectations with coverage of the most recent cosmetic agents, their indications, and possible complications.