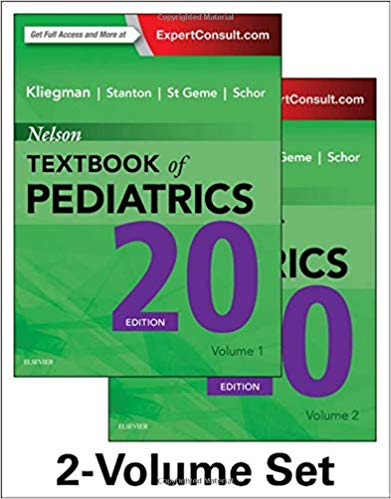 After more than 75 years, Nelson Textbook of Pediatrics remains your indispensable source for definitive, state-of-the-art answers on every aspect of pediatric care. Embracing the new advances in science as well as the time-honored art of pediatric practice, this classic reference provides the essential information that practitioners and other care providers involved in pediatric health care throughout the world need to understand to effectively address the enormous range of biologic, psychologic, and social problems that our children and youth may face. Brand-new chapters and comprehensive revisions throughout ensure that you have the most recent information on diagnosis and treatment of pediatric diseases based on the latest recommendations and methodologies.
"The coverage of such a wide range of subjects relating to child health makes this textbook still the gold standard and companion for all pediatricians across the world." Reviewed by Neel Kamal, Sept 2015
"All in all, this is an excellent and detailed paediatric review textbook which represents excellent value for money..truly a textbook for the global community" Reviewed by glycosmedia.com, Sept 2015
Form a definitive diagnosis and create the best treatment plans possible using evidence-based medicine and astute clinical experiences from leading international authors―many new to this edition.
A NEW two-volume layout provides superior portability and exceptional ease of use.
Gain a more complete perspective. Along with a broader emphasis on imaging and molecular diagnosesand updated references, the new edition includes an increased focus on international issues to ensure relevance in pediatrics practice throughout the world.
Effectively apply the latest techniques and approaches with complete updates throughout 35 new chapters, including: Innovations in Addressing Child Health and Survival in Low Income Settings; Developmental Domains and Theories of Cognition; The Reggio Emilia Educational Approach Catatonia ; Refeeding Syndrome; Altitude-associated Illness; Genetic Approaches to Rare and Undiagnosed Diseases; Healthcare-Associated Infections; Intrapartum and Peripartum Infections; Bath salts and other drugs of abuse; Small Fiber Polyneuropathy; Microbiome; Kingella kingae; Mitochondrial Neurogastrointestinal Encephalomyopathy; Nonalcoholic Fatty Liver Disease; Plagiocephaly; CNS Vasculitis; Anterior Cruciate Ligament Rupture; and Sports-Related Traumatic Brain Injury.
Recognize, diagnose, and manage genetic and acquired conditions more effectively. A new Rehabilitation section with 10 new chapters, including: Evaluation of the Child for Rehabilitative Services; Severe Traumatic Brain Injury; Spinal Cord Injury and Autonomic Crisis Management; Spasticity; Birth Brachial Plexus Palsy; Traumatic and Sports-Related Injuries; Meningomyelocele; Health and Wellness for Children with Disabilities.
Manage the transition to adult healthcare for children with chronic diseases through discussions of the overall health needs of patients with congenital heart defects, diabetes, and cystic fibrosis.
Understand the principles of therapy and which drugs and dosages to prescribe for every disease.