Clinical Arrhythmology and Electrophysiology: A Companion to Braunwald's Heart Disease, 3rd Edition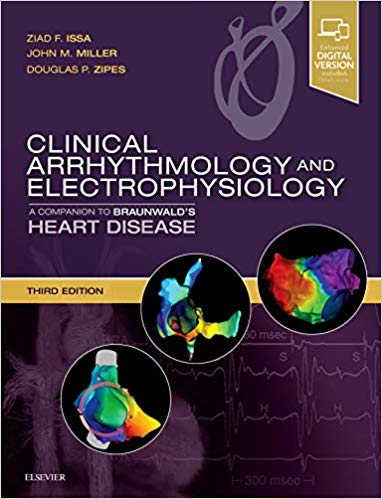 Part of the highly regarded Braunwald's family of cardiology references, Clinical Arrhythmology and Electrophysiology, 3rd Edition, offers complete coverage of the latest diagnosis and management options for patients with arrhythmias. Expanded clinical content, clear illustrations, and dynamic videos keep you fully abreast of current technologies, new syndromes and diagnostic procedures, new information on molecular genetics, advances in ablation, and much more.
Key topics such as inherited channelopathies; atrial fibrillation; ventricular tachycardia; hypertrophic cardiomyopathy, arrhythmogenic cardiomyopathy, and congenital heart disease.
Dozens of videos depicting key mapping techniques, and fluoroscopy images illustrating techniques for electrophysiologic catheter positioning, atrial septal puncture, and pericardial access, cryoablation, and left atrial appendage exclusion procedures.
Grounds clinical techniques in basic science for managing complex patients.
Consistent organization, showing every arrhythmia in a similar manner for quick reference.