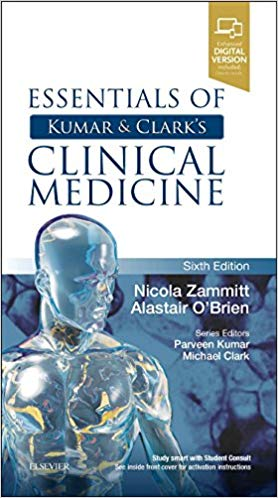 Baby Kumar & Clark', best-selling portable revision reference, is now in its sixth edition.
Features
Normal values
Medical emergencies
Useful websites
Abbreviations
Dictionary of terms
New author team: Nicola Zammitt and Alastair O'Brien
Now comes with a free e-book on StudentConsult
Fully updated and revised in line with the new edition of Kumar & Clark's Clinical Medicine
2018 BMA Awards: Winner, Internal Medicine
From reviews of the previous edition
'Most of the diseases are covered in the same format as the big K&C, making this book perfect of PBL and for exam revision. Highly recommend this book to be your next reading material on the tube or rail.'
'Excellent book, covers everything you want it to cover. Easily carried wherever you want. Quick and concise points so you don't have to spend too long on a single topic.'
'Well laid out and absolutely perfect for the earlier and clinical years of medical school. Explanations are brilliant, covering the common conditions well. Covers everything you need to know for clinical medicine (so don't go and buy millions of other books!) Leaves out the things you don't need to know (which is the most important thing in a textbook!)'
'Great book. I have the full version as well, but the Essentials is the perfect size to carry around. It condenses all the main points so you still have all you need to know. I'm studying dentistry and it has been working a charm so far.'
'Exactly what I needed. I used to get so lost in thousands of pages and among many different textbooks that I didn't know which to choose. This book has basic things every medical student needs to know, and is far better than any other pocket book I came across.