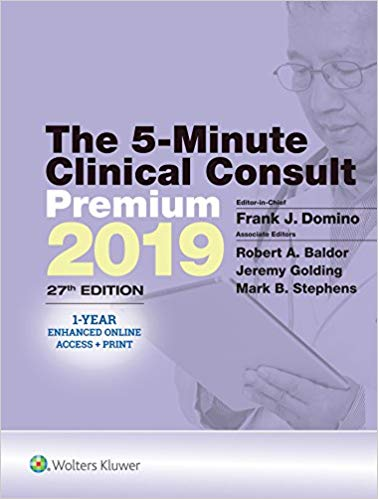 Make the most effective diagnostic and therapeutic decisions quickly and efficiently!
A best seller for over 25 years, The 5-Minute Clinical Consult 2019 is a practical, highly organized resource for clinicians in primary care, family medicine, emergency medicine, nursing, and pediatrics. It provides rapid access to guidance on diagnosis, treatment, medications, follow-up, and associated factors for more than 540 diseases and conditions. The 5-Minute Clinical Consult 2019 is designed to deliver maximum clinical confidence as efficiently as possible…allowing you to focus your valuable time on giving your patients the best possible care.
Get quick access to all-new topics, including Advance Care Planning, Geriatric Care, and Medical Marijuana.
Find the answers you need quickly thanks to an intuitive, at-a-glance format, with concise, bulleted text; hundreds of diagnostic and therapeutic algorithms; ICD-10 codes, DSM-5 criteria; and much more.
Make confident decisions aided by current evidence-based designations in each topic.