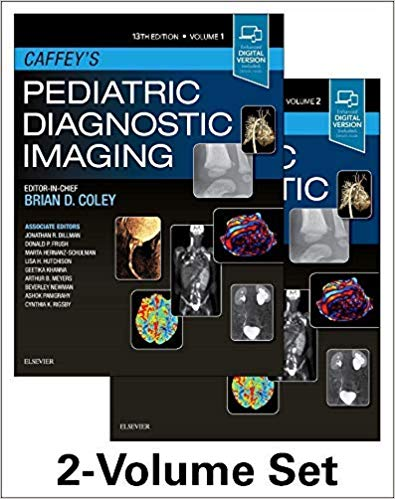 For more than 70 years, Caffey's Pediatric Diagnostic Imaging has been the comprehensive, go-to reference that radiologists have relied upon for dependable coverage of all aspects of pediatric imaging. In the 13th Edition, Dr. Brian Coley leads a team of experts to bring you up to date with today's practice standards in radiation effects and safety, as well as in head and neck, neurologic, thoracic, cardiac, gastrointestinal, genitourinary, and musculoskeletal pediatric imaging. This two-volume bestselling reference is a must-have resource for pediatric radiologists, general radiologists, pediatric subspecialists, pediatricians, hospitals, and more – anywhere clinicians need to ensure safe, effective, and up-to-date imaging of children.
Provides access to 50 online videos, including hypertrophic pyloric stenosis, disorders of swallowing, fetal swallowing, fetal bowel obstruction, upper GI and ultrasound evaluation of malrotation and volvulus, congenital heart disease MRI evaluation, and many more.
Includes separate chapters on radiation effects and safety, pre-natal imaging, neoplasms, trauma, techniques, embryology, genetic anomalies, and common acquired conditions.
Takes an updated, contemporary approach with more focused and consistently formatted content throughout. Clinical content includes Overview; Etiologies, Pathophysiology, and Clinical Presentation; Imaging, including pros and cons, costs, evidence-based data, findings, and differential diagnostic considerations; and Treatment, including follow-up.
Features 8,500 high-quality images – 1,000 new or updated.
Provides expanded coverage of advanced imaging and diagnostics, including genetics and fetal imaging, MRI and advanced MR techniques, low-dose CT, ultrasound, nuclear medicine, and molecular imaging, as well as the latest quality standards, evidence-based data, and practice guidelines.
Features new Key Points boxes and more tables and flowcharts that make reference faster and easier.