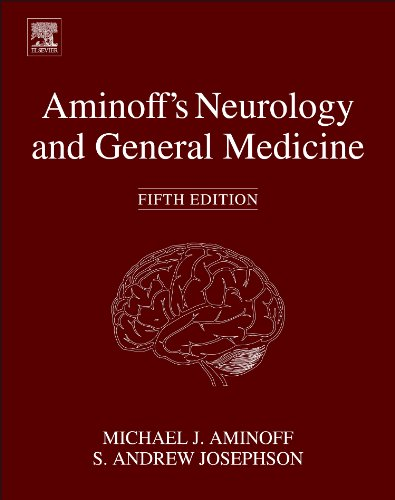 Title: Aminoff's Neurology and General Medicine Volume:
Author(s): Michael J. Aminoff and S. Andrew Josephson (Eds.)
Series: Periodical:
Publisher: Academic Press City:
Year: 2014 Edition: 5
Language: English Pages (biblio\tech): 1392\1312
ISBN: 978-0-12-407710-2 ID: 1168882
Time added: 2014-05-06 10:00:00 Time modified: 2019-12-21 21:23:21
Library: Library issue:
Size: 101 MB (105775843 bytes) Extension: pdf
Aminoff's Neurology and General Medicine is the standard and classic reference providing comprehensive coverage of the relationship between neurologic practice and general medicine. As neurologists are asked to consult on general medical conditions, this reference provides an authoritative tool linking general medical conditions to specific neurologic issues and disorders. This is also a valuable tool for the general practitioner seeking to understand the neurologic aspects of their medical practice.
Completely revised with new chapters covering metastatic disease, bladder disease, psychogenic disorders, dementia, and pre-operative and post-operative care of patients with neurologic disorders, this new edition will again be the go-to reference for both neurologists and general practitioners.
The standard authoritative reference detailing the relationship between neurology and general medicine.
100% revised and updated with several new chapters
Well illustrated, with most illustrations in full color
Table of contents :
Content:
Front-matter, Pages i-iii
Copyright, Page iv
Dedication, Page v
Contributors, Pages vii-xii, Gary M. Abrams, Gregory W. Albers, James J.P. Alix, Michael J. Aminoff, Adil E. Bharucha, Amit Batla, Carolyn M. Benson, John P. Betjemann, Jared R. Brosch, Michael Camilleri, Robert Chen, Chadwick W. Christine, G.A.B. Davies-Jones, Lisa M. DeAngelis, Mariel B. Deutsch, Priya S. Dhawan, William P. Dillon, Vanja C. Douglas, Christopher F. Dowd, Adré J. du Plessis, Eric R. Eggenberger, et al.
Preface to the Fifth Edition, Pages xiii-xv, Michael J. Aminoff
Preface to the First Edition, Page xvii, Michael J. Aminoff
Chapter 1 – Breathing and the Nervous System, Pages 3-23, Pramod K. Pal, Robert Chen
Chapter 2 – Neurologic Complications of Aortic Disease and Surgery, Pages 25-48, Douglas S. Goodin
Chapter 3 – Neurologic Complications of Cardiac Surgery, Pages 49-63, John R. Hotson
Chapter 4 – Neurologic Complications of Congenital Heart Disease and Cardiac Surgery in Children, Pages 65-78, Catherine Limperopoulos, Adré J. Du Plessis
Chapter 5 – Neurologic Manifestations of Acquired Cardiac Disease, Arrhythmias, and Interventional Cardiology, Pages 79-97, Justin A. Kinsella, David J. Gladstone
Chapter 6 – Neurologic Manifestations of Infective Endocarditis, Pages 99-117, Linda S. Williams, Jared R. Brosch
Chapter 7 – Neurologic Complications of Hypertension, Pages 119-145, Anthony S. Kim, S.Claiborne Johnston
Chapter 8 – Postural Hypotension and Syncope, Pages 147-172, Michael J. Aminoff
Chapter 9 – Neurologic Complications of Cardiac Arrest, Pages 173-182, Carolyn M. Benson, G.Bryan Young
Chapter 10 – Cardiac Manifestations of Acute Neurologic Lesions, Pages 183-198, Nerissa U. Ko
Chapter 11 – Stroke as a Complication of General Medical Disorders, Pages 199-220, Paul George, Gregory W. Albers
Chapter 12 – Hepatic and Pancreatic Encephalopathy, Pages 223-235, Karin Weissenborn
Chapter 13 – Other Neurologic Disorders Associated with Gastrointestinal Disease, Pages 237-253, Ronald F. Pfeiffer
Chapter 14 – Disturbances of Gastrointestinal Motility and the Nervous System, Pages 255-271, Michael Camilleri, Adil E. Bharucha
Chapter 15 – Neurologic Manifestations of Nutritional Disorders, Pages 273-290, Priya S. Dhawan, Brent P. Goodman
Chapter 16 – Neurologic Dysfunction and Kidney Disease, Pages 293-316, Michael J. Aminoff
Chapter 17 – Neurologic Complications of Electrolyte Disturbances, Pages 317-326, Jack E. Riggs
Chapter 18 – Thyroid Disease and the Nervous System, Pages 329-350, James J.P. Alix, Pamela J. Shaw
Chapter 19 – Diabetes and the Nervous System, Pages 351-368, Douglas W. Zochodne, Cory Toth
Chapter 20 – Sex Hormone, Pituitary, Parathyroid, and Adrenal Disorders and the Nervous System, Pages 369-397, Hyman M. Schipper, Cheryl A. Jay, Gary M. Abrams
Chapter 21 – The Skin and Neurologic Disease, Pages 401-430, Orest Hurko
Chapter 22 – Neurologic Disorders Associated with Bone and Joint Disease, Pages 433-457, Ann Noelle Poncelet, Andrew P. Rose-Innes
Chapter 23 – Otoneurologic Manifestations of Otologic and Systemic Disease, Pages 461-478, Joseph M. Furman, Andrew A. Mccall
Chapter 24 – Neuro-ophthalmology in Medicine, Pages 479-502, E.R. Eggenberger, J.H. Pula
Chapter 25 – Neurologic Manifestations of Hematologic Disorders, Pages 505-537, J.D. Sussman, G.A.B. Davies-Jones
Chapter 26 – Metastatic Disease and the Nervous System, Pages 539-562, Jasmin JO, David Schiff
Chapter 27 – Paraneoplastic Syndromes Involving the Nervous System, Pages 563-590, Jerome B. Posner
Chapter 28 – Neurologic Complications of Chemotherapy and Radiation Therapy, Pages 591-609, Mariel B. Deutsch, Lisa M. Deangelis
Chapter 29 – Lower Urinary Tract Dysfunction and the Nervous System, Pages 613-631, Amit Batla Jalesh N. Panicker
Chapter 30 – Sexual Dysfunction in Patients with Neurologic Disorders, Pages 633-656, David B. Vodušek, Michael J. Aminoff
Chapter 31 – Pregnancy and Disorders of the Nervous System, Pages 657-681, Michael J. Aminoff
Chapter 32 – Drug-Induced Disorders of the Nervous System, Pages 685-711, Kevin D.J. O'Connor, Frank L. Mastaglia
Chapter 33 – Alcohol and the Nervous System, Pages 713-724, Robert O. Messing
Chapter 34 – Neurologic Complications of Recreational Drugs, Pages 725-735, S.Andrew Josephson
Chapter 35 – Neurotoxin Exposure in the Workplace, Pages 737-751, Michael J. Aminoff
Chapter 36 – Neurologic Complications of Thermal and Electric Burns, Pages 753-765, Marc D. Winkelman
Chapter 37 – Abnormalities of Thermal Regulation and the Nervous System, Pages 767-781, Douglas J. Gelb
Chapter 38 – Postconcussion Syndrome, Pages 783-791, Jeffrey S. Kutcher
Chapter 39 – Acute Bacterial Infections of the Central Nervous System, Pages 795-815, Karen L. Roos
Chapter 40 – Spirochetal Infections of the Nervous System, Pages 817-831, John J. Halperin
Chapter 41 – Tuberculosis of the Central Nervous System, Pages 833-843, John M. Leonard
Chapter 42 – Neurologic Complications of Leprosy, Pages 845-856, Thomas D. Sabin, Thomas R. Swift
Chapter 43 – Nervous System Complications of Systemic Viral Infections, Pages 857-883, John E. Greenlee
Chapter 44 – HIV and other Retroviral Infections of the Nervous System, Pages 885-909, Michael J. Peluso, Serena Spudich
Chapter 45 – Neurologic Complications of Organ Transplantation and Immunosuppressive Agents, Pages 911-923, Roy A. Patchell
Chapter 46 – Fungal Infections of the Central Nervous System, Pages 925-945, John R. Perfect
Chapter 47 – Parasitic Infections of the Central Nervous System, Pages 947-968, Edsel Maurice T. Salvana, Robert A. Salata, Charles H. King
Chapter 48 – Neurologic Complications of Vaccination, Pages 969-983, Alex C. Tselis
Chapter 49 – Sarcoidosis of the Nervous System, Pages 985-1002, Allan Krumholz, Barney J. Stern
Chapter 50 – Connective Tissue Diseases, Vasculitis, and the Nervous System, Pages 1003-1029, Richard B. Rosenbaum
Chapter 51 – Neurologic Aspects of Sleep Medicine, Pages 1033-1065, Renee Monderer, Shelby Harris, Michael Thorpy
Chapter 52 – Functional Neurologic Symptom Disorders, Pages 1069-1085, Victor I. Reus
Chapter 53 – Neurologic Complications of Imaging Procedures, Pages 1089-1105, William P. Dillon, Christopher F. Dowd
Chapter 54 – Preoperative and Postoperative Care of Patients with Neurologic Disorders, Pages 1107-1123, John P. Betjemann, S.Andrew Josephson
Chapter 55 – Neurologic Disorders and Anesthesia, Pages 1125-1138, Alejandro A. Rabinstein
Chapter 56 – Neurologic Complications in Critically Ill Patients, Pages 1141-1157, John A. Morren, Edward M. Manno
Chapter 57 – Seizures and General Medical Disorders, Pages 1159-1177, Simon M. Glynn, Jack M. Parent, Michael J. Aminoff
Chapter 58 – Movement Disorders Associated with General Medical Diseases, Pages 1179-1207, Chadwick W. Christine, Michael J. Aminoff
Chapter 59 – Neuromuscular Complications of General Medical Disorders, Pages 1209-1242, Jeffrey W. Ralph, Michael J. Aminoff
Chapter 60 – Disorders of Consciousness in Systemic Diseases, Pages 1243-1261, J. Claude Hemphill III
Chapter 61 – Dementia and Systemic Disease, Pages 1263-1277, Vanja C. Douglas, S. Andrew Josephson
Chapter 62 – Care at the End of Life, Pages 1281-1293, Michael J. Aminoff
Index, Pages 1295-1368