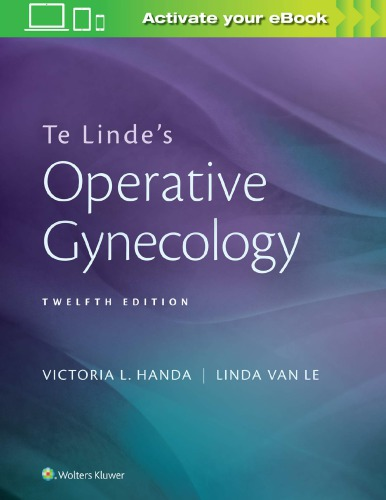 Te Linde's Operative Gynecology, Twelfth Edition, remains your authoritative resource on the comprehensive perioperative care of gynecologic patients. New features in this edition include a primer on anesthesia, a chapter on positioning for pelvic surgery, a practical review of pediatric gynecology, and a section on the use of surgical instruments. All chapters have been updated to reflect contemporary gynecologic practice and the latest minimally invasive surgical approaches. New illustrations are included and each chapter includes step-by-step descriptions of surgical techniques. Today's best surgeons and teachers offer a readable, intuitive, and concise reference for trainees as well as the experienced gynecologist.
A completely restructured table of contents that reflects the needs of today's novice and experienced surgeons – ideal for quick reference and as a clinical refresher.
An intuitive, chronological structure, covering relevant topics from preoperative preparation through postoperative care, as well as an expansive section on gynecologic procedures and surgical management of selected conditions.
The same readable, easy-to-digest presentation you've come to expect from Te Linde's.
Expanded "Steps in the Procedure" boxes are supplied for all surgical chapters – a favorite feature that provides clear, easy-to-follow roadmaps for each procedure.
More than 1,300 color illustrations, photographs and line drawings.