Creasy and Resnik's Maternal-Fetal Medicine: Principles and Practice, 7th Edition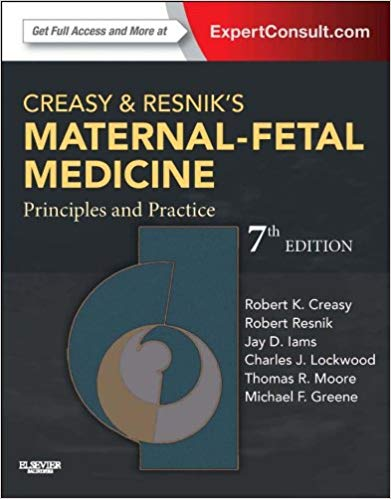 Minimize complications with Creasy and Resnik's Maternal-Fetal Medicine. This medical reference book puts the most recent advances in basic science, clinical diagnosis, and management at your fingertips, equipping you with the up-to date evidence-based guidelines and knowledge you need to ensure the best possible outcomes in maternal-fetal medicine.
Consult this title on your favorite e-reader, conduct rapid searches, and adjust font sizes for optimal readability.
Apply today's best practices in maternal-fetal medicine with an increased emphasis on evidence-based medicine.
Find dependable, state-of-the-art answers to any clinical question with comprehensive coverage of maternal-fetal medicine from the foremost researchers and practitioners in obstetrics, gynecology and perinatology.
Take advantage of the most recent diagnostic advances with a new section on Obstetrical Imaging, complemented by online ultrasound clips as well as cross references and links to genetic disorder databases.
Stay on top of rapidly evolving maternal-fetal medicine through new chapters on Recurrent Spontaneous Abortion, Stillbirth, Patient Safety, Maternal Mortality, and Substance Abuse, as well as comprehensive updates on the biology of parturition, fetal DNA testing from maternal blood, fetal growth, prenatal genetic screening and diagnosis, fetal cardiac malformations and arrhythmias, thyroid disease and pregnancy, management of depression and psychoses during pregnancy and the puerperium, and much more.
Access the complete contents online at Expert Consult.