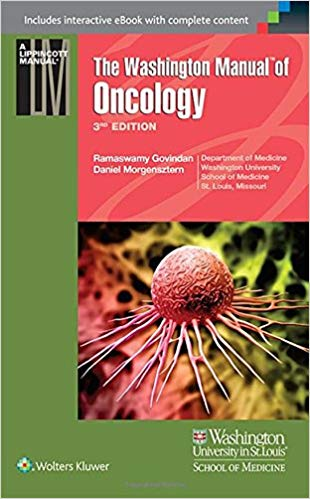 Get the latest, most reliable cancer management recommendations in the famous fast-access Washington Manual® outline format!  Concise, clearly written sections on principles of oncology, site-specific diseases, and supportive therapy make The Washington Manual® of Oncology, 3rd Edition, an invaluable resource for the daily care of cancer patients.
The Washington Manual® is a registered mark belonging to Washington University in St. Louis to which international legal protection applies. The mark is used in this publication by LWW under license from Washington University.
Better understand innovative developments in oncology with new chapters on Genome Sequencing, Personalized Therapy, Endocrine Tumors, Myelodysplastic Syndromes, Anti-emesis and Survivorship.
Focus on new ideas in the field thanks to a greater emphasis on molecular diagnosis, genome sequencing, and targeted therapies.
Quickly locate key information in the appendices, such as body surface area, dose adjustments of chemotherapy agents in renal and hepatic failure, and online resources for oncologists.
Benefit from proven treatment recommendations from the experts at Washington University in St. Louis – ideal for the busy third and fourth year student, resident, or clinician.
Now with the print edition, enjoy the bundled interactive eBook edition, offering tablet, smartphone, or online access to:
Complete content with enhanced navigation.
Powerful search tools and smart navigation cross-links that pull results from content in the book, your notes, and even the web.
Cross-linked pages, references, and more for easy navigation.
Highlighting tool for easier reference of key content throughout the text.
Ability to take and share notes with friends and colleagues.
Quick reference tabbing to save your favorite content for future use.