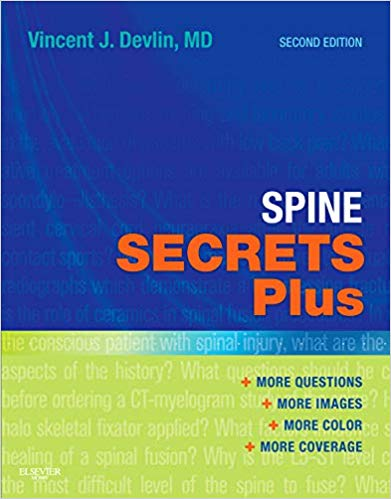 Spine Secrets Plus―a Secrets Series® title in the new PLUS format― gives you the answers you need to succeed on your rotations, your boards, and your career. Dr. Vincent J. Devlin provides the expert perspective you need to grasp the nuances of spine surgery and related specialties. This new edition offers expanded coverage, a larger format, and colorful visual elements to provide an overall enhanced learning experience. All this, along with the popular question-and answer approach, makes it a perfect concise board review tool and a handy clinical reference.
Prepare effectively with the proven question-and-answer format of the highly acclaimed Secrets Series®.
Master all common conditions and their treatments.
Identify key facts using the "Top 100 Secrets".
Review material quickly thanks to bulleted lists, tables, and short answers.
Apply memory aids and "secrets" from experts in the field.
Get an overall enhanced learning experience from the new PLUS format, with an expanded size and layout for easier review, more information, and full-color visual elements.
Stay current on the latest standards in medical care thanks to extensive updates, including new chapters on Spinal Cord Stimulation and Implantable Drug Delivery Systems, Special surgical Techniques for the Growing Spine, Pathophysiology of Degenerative Disorders of the Spine, Discogenic Low Back Pain, Treatment Options for Osteoporotic Vertebral Compression Fractures, and Disorders Affecting the Spinal Cord and Nerve Roots.
See a clearer picture of what you encounter in practice through larger, detailed images and illustrations.
Find information quickly and easily with additional color that enhances tables, legends, key points, and websites.
Get the spine answers you need plus much more to succeed in your career