Neurology Self-Assessment: A Companion to Bradley's Neurology in Clinical Practice, 1st Edition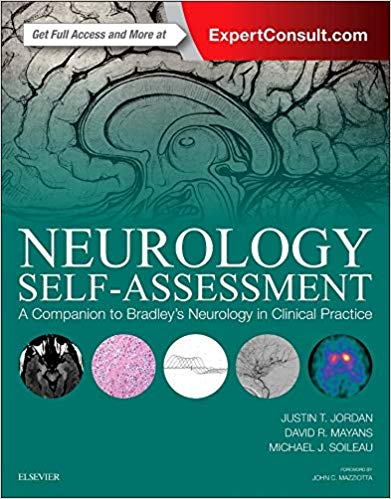 Get the most comprehensive, up-to-date guidance available for exam prep with help from Neurology Self-Assessment. Written by Drs. Justin T. Jordan, David R. Mayans, and Michael J. Soileau, this companion volume to Bradley's Neurology in Clinical Practice thoroughly covers the core and subspecialty topics you'll encounter on your exam, along with detailed answer explanations and cross-references to Bradley's. With a focus on assessing subspecialty strengths and weaknesses, it's the ideal preparation for board certification, maintenance of certification, in-training examinations, and neurology examinations for medical students.
Features six examinations of more than 100 questions each that follow the board exam blueprint.
Contains challenging questions that fully prepare you for exams, with detailed answer explanations and references to Bradley's Neurology in Clinical Practice, 7th Edition.
Covers basic neuroscience, behavioral neurology, and psychiatry; clinical neurology topics such as headache, cerebrovascular disease, and neuro-infectious disease; and increasingly tested areas such as ethics and interpersonal skills.

Over a quarter of the questions include illustrations such as anatomy, imaging, histology slides, and clinical photos.
Includes excellent coverage of key topics such as neurochemistry and neurophysiology, new immune-mediated therapies, child neurology, metabolic diseases, and much more.
Offers unique, scorable tests online with subspecialty question divisions.