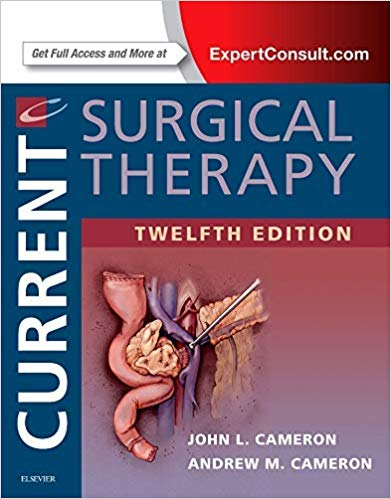 For more than 30 years, Current Surgical Therapy has been the go-to resource for both residents and practitioners for expert advice on today's best treatment and management options for general surgery. The 12th Edition, by Drs. John L. Cameron and Andrew M. Cameron, remains the ideal reference for written, oral, and recertifying board study, as well as for everyday clinical practice. Twelve brand-new chapters and many new contributing authorskeep you up to date with recent changes in this fast-moving field, helping you achieve better outcomes and ensure faster recovery times for your patients.
Presents practical, hands-on advice on selecting and implementing the latest surgical approaches from today's preeminent general surgeons.
Approaches each topic using the same easy-to-follow format: disease presentation, pathophysiology, and diagnostics, followed by surgical therapy.
Discusses which approach to take, how to avoid or minimize complications, and what outcomes to expect.
Helps you visualize how to proceed with full color images throughout.
Trusted by generations of general surgeons as the definitive source on the most current surgical approaches, providing a quick, efficient review prior to surgery and when preparing for surgical boards and ABSITEs.
Features nearly 300 succinct, well-illustrated chapters that summarize today's best treatment and management advice for a wide variety of diseases and associated surgeries.
Includes twelve brand-new chapters covering islet allotransplantation; lower extremity amputations; prehospital management of the trauma patient; ERAS: colon surgery; minimally invasive pancreatic surgery; five new chapters on the breast, and more.