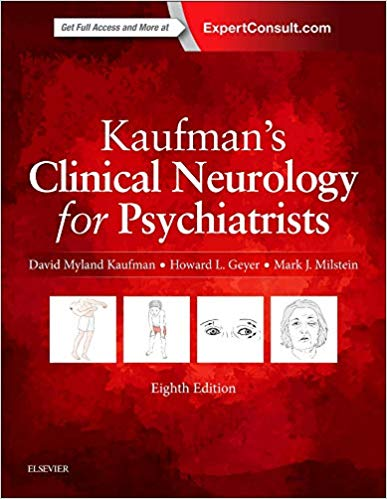 For more than 35 years, Kaufman's Clinical Neurology for Psychiatrists has been the only reference to focus on the must-know aspects of neurology for psychiatrists. Now in a revised 8th Edition, this classic text brings you up to date with essential knowledge in clinical neurology with new topics, new illustrations, and new questions to help you excel on the American Board of Psychiatry and Neurology examination.
Explains each condition's neurologic and psychiatric features, easily performed office and bedside examinations, appropriate tests, differential diagnosis, and management options.
Expert Consult eBook version included with purchase. This enhanced eBook experience allows you to search all of the text, figures, images, and references from the book on a variety of devices.
Discusses timely, clinically-relevant topics such as traumatic brain injury, Alzheimer and non-Alzheimer dementias, other age-related neurologic conditions, neurologic illnesses that present with symptoms of autism, neurologic effects of illicit drug use, and current treatments.
Correlates neurologic illnesses with the DSM-5.
Includes nearly 2,000 multiple-choice questions both in print and online, – all written to help you succeed on the ABPN certifying exam.
Features new and improved clinical illustrations throughout: life-like patient sketches, anatomy line drawings, CTs, MRIs, and EEGs that demonstrate clinical features.