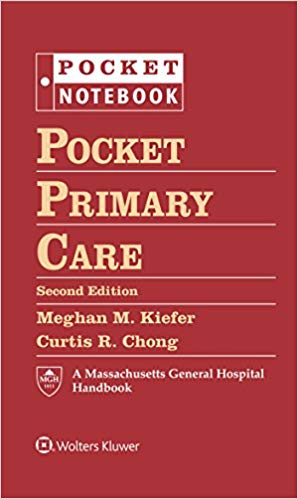 Pocket Primary Care, Second Edition, is a practical, high-yield reference for quick answers to common diagnostic questions in the outpatient setting. This easy-to-use, loose-leaf resource contains current evidence-based practices, accepted best practices, and expert guidance from physicians at Massachusetts General Hospital, including appropriate workups and when to refer. From counseling patients on insomnia to diagnosing STIs, from interpreting PFTs to treating osteoporosis, this revised second edition supports your clinical decision making and helps you meet everyday challenges in your practice.
Mirrors the thought process of primary care clinicians in day-to-day practice.
Contains fully updated information throughout, including the latest clinical guidelines and new therapeutic recommendations.
Features bulleted lists, tables, diagrams, and algorithms that make essential facts easy to find and retain.
Covers all major subspecialties, and includes topics such as routine screenings, health literacy, disease screening, women's health, men's health, and geriatrics.
Ideal as a reference for daily practice as well as an accepted and trusted resource for students and residents to use on rounds.